Meet the Maker - LP. Handmade
Hello to the lovely person taking the time to read my blog post.
I hope you are doing really well. 
If you're like me, when you scroll through Instagram and see so many beautiful hand crafted items, don't you sometimes wish you knew a bit more about the maker behind the products? How did they start out?  Do they work in their business full time?  How did their business grow?  Have they experienced similar issues with their business as I do with mine?  What inspires them...?  How do they keep evolving their business?  Let's be honest, we are all a little bit nosey, aren't we? 
So that is how the 'Meet The Maker' blog series came into existence. Over the coming weeks, I'll be introducing you to some makers that you may know of and some that you are yet to "meet".
To begin the series, I am excited to introduce you to Lucie from LP. Handmade.
Enjoy the read...
Who is the face behind LP. Handmade?
My name is Lucie Pike, I am 19 years old, the founder and creator of local Adelaide brand LP. Handmade. LP. Handmade began as a hobby, stemming from a year 12 design project, and has boomed ever since. It has developed from a hobby into a small business with products now available in various boutique gift stores across South Australia. LP. Handmade products are in constant demand and with the business sustaining steady growth it is a commitment I enjoy in addition to attending Flinders University. I'm currently in 2nd year, studying a Bachelor of Business - (Advanced Leadership), also play sport and work at an amazing cafe in Brighton S.A. - The Seller Door.

What is one piece of advice you would give to a girl boss starting or wanting to start their own business? 
I believe passion and risk-taking are two key components in operating or wanting to operate a business. The owner should be the most passionate person involved in the business and lead by example. Having a passionate attitude towards the business allows the job to be fun and exciting, this is a very important perspective that I follow. Taking calculated risks is one of three main attributes required by entrepreneurs, big or small. Risk-taking and good planning are part of the make up of a small business as well as the bigger decisions such as financial planning to the creative side with things such as simple colour combinations being important factors.

Time management! How do you deal with a busy life as well as creating unique and detailed jewellery? Are you a diary person or just complete things when you have time?
While juggling a full time university timetable, working at least 3 days per week and operating LP. Handmade at every moment in between, I have learnt to live with a constant busy lifestyle. Although, I always ensure I make time for family, friends and going out for coffee… That said, as my hobby has emerged into a small business I have noticed a dramatic change in my prioritising, the business commitments before other every day activities. I have adapted to previous everyday activities to incorporate business based activities like spending time on business social media platforms rather than personal. Although it may appear anti-social, I use my phone a lot! It is my diary, communicating and marketing device and I would be lost without it!

Do you intend on making LP. Handmade a full time job at some stage?
At this stage of my working life it is not my ambition to make LP. Handmade my full time job, but I have definitely considered it! Although it is challenging, my current main goal is to finish my university degree and see what opportunities that creates. In the short term I will continue to operate LP. Handmade.

What is your current main goal for LP. Handmade?
My current main goal for LP. Handmade is to continue growing the business into an iconic local SA brand. I am also currently working on a website, which is where I intend to fully operate my retail business sales through. I am hoping this assists with each sale being processed faster and easier for both my customers and I, and overall helps boost business growth and efficiency.

What is your favourite social media platform for your business and why? 
Instagram is definitely my go-to social media platform for my business. The apps particular image focus allows me to visually present a clear image of my products to my followers. The like and comment system that Instagram use also helps portray what jewellery/accessories my followers like best. The apps option to direct message between accounts has also
significantly benefitted my business. This is how I have been selling my products and will continue to until the website launches. The specialised settings the app offers also assists in expanding the target market from the specific niche. It also allows any account active on Instagram to find or follow @lp.handmade.
Have there been times where you have wanted to give up? For example, due to lack of time or motivation? If so, how did you get past it?
Launching a hobby into a small business is a high risk process and there has been times where I have thought about stopping LP. Handmade. It was the 6-12 month stage where I had to make a decision to continue or not. During this period of time I was completing my first year of university. The stress of university assignments and exams combined along with the reality that running a small business was hard work got to me at times. The initial adrenaline rush from establishing the business begins to depreciate and turns into how can I make this business bigger and better. I had to make the decision to stay or go. When I reflect on that past difficult time, I now realise that although it seemed challenging at the time, on reflection it has made me a stronger person. I think it is really important to know that you will receive more negatives than positives, but that is just business!
Do you have any new products in the pipeline? If so, could we have a sneak peek of what to expect? 
I am constantly trying to establish new products and I am so excited to tell that I am working on a collection exclusive to the website launch. These will particularly include different styles of earrings and key rings. Keep your eyes peeled for my Instagram posts that include the words 'available soon' as they will be launching with the website.
Where can customers find your products? 
Currently LP. Handmade products are available in various boutique gift stores across South Australia. We also offer a direct order option through Instagram (@lp.handmade) or email (luciepike@hotmail.com). However in addition to these options our team is working hard and fast to establish an exclusive LP. Handmade website, where I aim to generate all retail sales through.

What do you think is the best way to promote your business to get your name recognised?
I have used multiple promotional techniques while trying to grow LP. Handmade. Initial exposure by attending local Adelaide markets definitely benefitted the brand in the beginning. I found markets were a great place to communicate and meet new people. The particular market niche at these events are also wanting to buy locally produced low-cost (aka. market price) products thus they are willing to try LP. Handmade. Another example of brand growing is the exposure wholesalers provide. Wholesalers expose a completely new niche to the products, as customers may be initially attracted to the store and simply stumble across my products. This has definitely helped broaden my target market. In addition to these promotions, to assist exposure of LP. Handmade I ensure to keep my social media posts fun and the images professional. I also aim to keep my Instagram page constantly updated and attractive. This stated, I try to take all promotional opportunities that could possibly benefit the brand. I also think it is really important to be constantly changing how you are exposing the brand, this can help attract attention from outsiders.
Well, that is Lucie and LP. Handmade introduced to you in a little over 1000 words!  What an inspiration... Running a successful and evolving business whilst studying a Bachelor of Business at Uni plus working a part time job!
Would you like the opportunity to win some LP. Handmade products? Head to our latest Instagram post about Lucie and LP. Handmade, comment your answers to the questions, follow @lp.handmade to make your entry valid and then cross your fingers to win...
Enjoy the rest of your week and keep a look out for our next 'Meet the Maker' blog post.
Lauren x
You could never lose your keys with these bright key rings!
Statement pompom dangles - yes please!
On Wednesdays, we wear pink...
New dangles coming to LP. Handmade soon!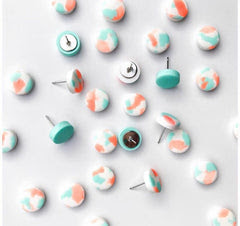 Simple yet so stylish studs...
Order yours now by contacting Lucie through Instagram DM or luciepike@hotmail.com.
---
1 comment